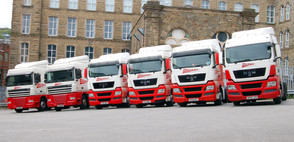 It has been another exciting month at Kenley's as plans are being finalised for our premises refurbishment. In addition we have also taken delivery of a brand new truck, adding to our extensive, dedicated fleet of diverse vehicles.
The Kenley's fleet of delivery vehicles ranges in size from small express vans to fully-articulated 44-ton wagons. This means we are able to safely and efficiently carry loads of any size, from just a single kilo up to a massive 28,000 kilos. A comprehensive selection of trailers is also available for maximum convenience, from the standard curtain-sided style to flatbed and double-decker trailers, some equipped with tail-lifts. All vehicles in the fleet are regularly maintained and are fitted with a GPS tracking device, allowing customers to follow the progress of their deliveries in real time.
The latest truck to join our fleet has curtains specially designed by Kenley's. As can be seen from the photographs, the vehicle is a modern and attractive addition to our selection of vehicles and we are looking forward to sending it off on its maiden voyage.
Our premises will soon enjoy an extensive refurbishment, scheduled to begin in several weeks upon finalisation of the plans. Part of the refurbishment will include the installation of a modern LED lighting system; at first this will be installed in the new warehouse on a trial basis before a decision will be made if to install the system throughout our premises. As technology has improved and the price of LED lighting has fallen, it is being extensively employed across businesses in an attempt to reduce their carbon footprint. LED lights have many advantages over standard incandescent lighting, including increased robustness, a reduced size and a longer lifetime; perhaps the most advantageous quality of LED lights is their dramatically-lower energy consumption. This lowered use of energy has an incredibly positive effect on the environment.
Please subscribe to our regular newsletter to keep updated with the latest news and information from Kenley's. To speak with a member of our transport, warehousing and distribution team, please call 01254 701633 or email us at info@kenleys.co.uk.
10th August 2013, 22:09