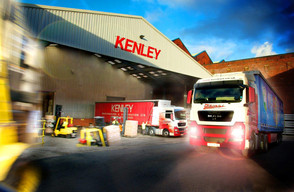 With the great number of transport, warehousing and distribution in Lancashire, it can be difficult to decide which to choose. Kenley's, with our many years of experience and proven track record, stand out among the crowd as a service provider of complete reliability.
Throughout our existence, Kenley's have lived and worked by the phrase 'The Customer is King'. This dedication to our customers has created deep bonds; some of our customers have continued to choose our service for more than thirty years. Providing a range of essential services to a range of companies from small independents to multi-nationals, we continue to adapt and optimise our systems and protocols in order to build on our impressive reputation.
Our warehousing service is comprehensive, allowing our customers to store and distribute anything from three-ton reels of paper to a single bottle of wine. Completely protected by CCTV and the market-leading Redcare Alarm System, our warehouses recently enjoyed a refurbishment and are located less than 10 minutes from the M65. With an effective palletised system, cost-effectiveness is greatly enhanced as the overheads of building-management are eliminated while our fully-racked, barcoded system allows for efficient order picking.
Offering unrivalled transport and delivery solutions, Kenley's own and maintain a large fleet of vehicles ranging from 44-ton, fully-articulated wagons to small and rapid compact vans. Packages of any size, weight and shape can be transported on our vehicles, each of which is equipped with a GPS system to allow customers to track their deliveries. Kenley's are a representative of the UK Pallet Network which means that, as one of a large group of transport companies around the UK, we can always fulfil our customers' needs.
Our continued success and our large and diverse client base are testament to the impeccable levels of service provided by Kenley's. For more information on how Kenley's can revolutionise your business practices, please call our expert team on 01254 701633 or email us at info@kenleys.co.uk.
15th August 2013, 20:10