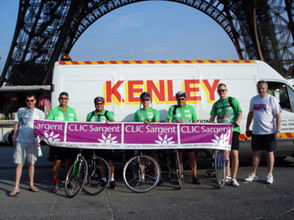 Kenley Warehousing & Distribution Ltd are proud to be a member of the diverse and vibrant Lancashire community. We are always happy and excited to support local community events, projects and causes and we invite you to contact us if you feel we could help you in any way. Here we look at some of the projects Kenley's were involved with last year.
Skateboarding and BMX riding are incredibly popular among young people but can both cause a nuisance and a danger in public places. Providing people with a dedicated place to carry out these healthy activities is of incredible importance and so Kenley's provided a vehicle to carry a skate park to a new site in Darwen. Staff from the Darwen Fire Brigade provided the manpower to load the heavy equipment which, now it is fully installed, provides a safe place for BMX riding and skateboarding as well as a crucial social hub.
Sargent Cancer Care for Children was founded in 1968, followed in 1975 by CLIC (Cancer and Leukemia in Childhood). In 2005, these charities merged to become CLIC Sargent, providing extensive support, advice and information for families affected by childhood cancer. A group of local businesses teamed up for a Paris-to-Barcelona charity bike ride in aid of this worthy cause and Kenley's contributed by first transporting all of the bikes and equipment to Paris before providing a support vehicle for the entirety of the event. The grand total raised by this exciting venture was in excess of £30,000.
Carnivals and parades are traditions that date back many hundreds of years. Decorated vehicles known as floats drive slowly through the streets, where lines of people gather to watch and take part in the celebrations. Kenley's provided vehicles for two parades in 2012, the INCOREZ float at the Preston Guild Celebrations and a beautifully-lit truck for the Clitheroe Torchlight Parade.
Photos of these exciting events can be found here. If you are involved with a community project with which you feel we could provide support, please contact us today.
Our dedicated team are available on 01254 701633 or by email info@kenleys.co.uk.
17th March 2013, 14:38